Camlocks
Quarter turn locks and latches – or "quarter turns"as they are sometimes known are the mainstay of our panel fittings industry with an increasing interest in IP65 rated units – as reflected by the extensive stock and availability at our Online store. Typically IP65 and lower ratings in polyamide or zinc die are appropriate but we are being asked more and more for stainless steel – which we also have.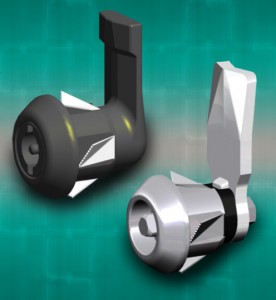 Of course there is no better way to check out these 1/4 turn access fittings than to go and look – so please do so here.
Or contact our experienced team to discuss your particular needs as we can supply from many major international manufacturer/suppliers.
The ESS5DB stainless steel IP65 quarter-turn cabinet lock from FDB Panel Fittings is a stainless steel IP65 quarter-turn cabinet lock for specialist industrial use where its rugged construction, coupled with a high degree of protection from dust and water ingress, make it a practical option.
The ESS5DB is available from the FDB online store for same-day despatch and features a 5mm double bit insert commonly used in engineering and manufacturing environments.
Where required our team here at FDB Panel Fittings offer an extensive custom assembly service under the Rocfast banner. This enables housings, inserts, cams, 3 point adapters, dust caps, finger pulls, serrated lock washers, earth nuts and slide shoes to be selected, assembled, packaged and dispatched on a worldwide basis, either as one-off orders or to support an ongoing production programme.
The EMKA slide shoe which fits over a standard cam provides a means of tightening up door closure, saving paint damage and smoothing operation – it is now available in black, which can offer an enhanced visual aspect to the installation for specialist electrical or electronic enclosure panels.
See our previous post for more on the slide shoe concept here.