Our new 54 series of hinges are designed with a view to optimising aesthetic style, lightness and strength. They are specifically intended for enclosures, 19 inch racks, cabinets, door panels in the specialist panel industry and for storage boxes, personal storage facilities, special machines etc where their curved style adds a certain design flair to the finished item.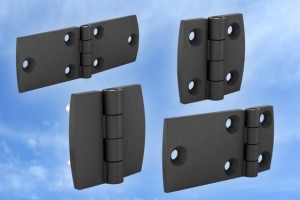 The 54 series hinges feature robust corrosion-resistant construction with 270° opening in a matt black finish, with symmetrical or assymmetrical format. Fitting options consist of countersunk screws or integral 304 grade stainless steel studs, with sizes of 30, 40, 50 and 60mm enabling tensile strength of 1200N to 5100N and shear between 850N to 4200N.
Please contact us for details of the 54 series.