Jobs
We are delighted that UK industry is doing so well at the moment – certainly we had wonderful interest at the Southern Manufacturing exhibition a few months ago and we are seeing the results now – to the point that we have been able to support the government's Way to Work apprentice scheme. Our latest recruit to the sales team – Claire, has come through that scheme, which we see as an excellent way to ramp up long term growth over the next 5 years or so with home grown talent, and to develop long term relationships both internally and with customers.
You can guess that we are intending to exhibit again next year at Southern Manufacturing – this time with more space and product – and maybe Claire will join Sophie ( pictured ) at the show.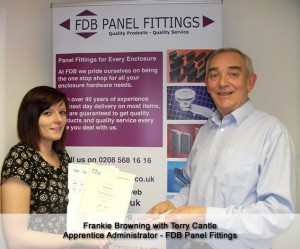 We are delighted that our Business Administration Apprentice – Frankie Browning has  successfully completed her Intermediate level Apprenticeship. Frankie worked extremely hard to complete  all aspects of her apprenticeship qualification in good time, and  was recently presented by Terry Cantle with £100 of gift vouchers and her certificates as a reward. It was great the way that the local Way to Work office really helped us in guiding Frankie through her apprenticeship so that she has now become a  valuable and important part of the Panel Fittings family. We are so pleased with the results that we are now looking to recruit  a second apprentice in order to further build the customer support team.