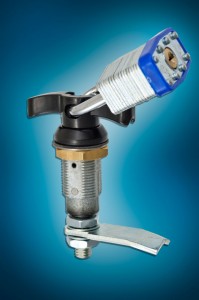 Our new compression lock design offers the convenience of a wing knob for operation together with the security of a padlockable facility. Applications are expected to include outdoor enclosures for electrical and telecoms installations.
This new wing handle design, intended for use with gasketed doors provides 6mm of compression to make a firm seal. It is water-resistant, fully adjustable and is mounted within an industry-standard rounded square hole – a straight latch cam is standard, with a full range of other cams available.
The latch features very positive engagement, being both water-resistant and adjustable. Turning the wing knob brings the latch bar into its 'closed' position, then draws up the bar by 6mm against the seal. This is achieved as the knob turns clockwise through 90 degrees to operate the latch, then through a further quarter-turn to compress against the door edge or striker. The latch bar depth is adjustable through 11mm and the unit is installed via an industry-standard 4-sided aperture with brass nut and stainless spring washer on a threaded body with neoprene gasket. The latch bar is secured by nut and locknut on a threaded spigot enabling an overall grip range of 47-60mm of depth adjustment. The lock body is chromium-plated as standard or optionally black powder-coated. A variety of alternative latch bars are available.
See here for further information and data sheet.