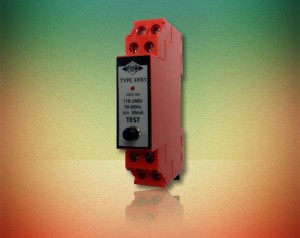 The EFR-1 is part of our wide range of low cost, high specification RCDs designed for the specialist panel builder and is ideal for general purpose, low current applications where space and economy are important considerations.
The EFR-1 is housed in a Single Module Din Rail Housing complete with integral test button and screw clamp terminals to simplify connection. It is available in 110V and 240V versions with a choice of pre-set current and time trip levels from 20mA to 500mA: instantaneous. With 60Ms and 300mS time delays also available to order. It can be connected to operate a shunt trip, UVR, or contactor coil. Flying leads for remote test facility are also available to special order.
It is supplied as standard for operation at frequencies 50/60 Hz but is also available to order at 300/400 Hz. The fully encapsulated construction provides excellent temperature stability, together with immunity against shock and vibration. Despite its compact size (only 17.5mm wide), the EFR-1 can be used with any of our remote C.T.'s with internal diameters ranging from 16mm to 250mm.