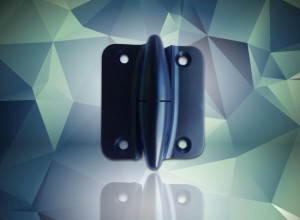 We are pleased to announce availability of our popular torpedo hinge in a "Black" version.
These torpedo-style hinges are widely used in traditional chrome plated finish for electrical cabinets and enclosures, allowing doors to be quickly mounted or removed from frames.
The new FDB "Black" version is both aesthetically pleasing and offers good corrosion resistance in normal industrial environments with the added benefit of a significant price point reduction.
The FDB "Black" torpedo hinge is manufactured in die cast zinc alloy with a 10mm stainless steel pin – rig tests have shown that two hinges on a 1m frame comfortably carried a 60kg load (equivalent to 60NM (3.43KN). It is available from our Online store as are many other hinges, locks and handles, together with power and earth protection products from FDB Electrical.