This range of heavy duty electrical protection units is designed to overcome inherent earth leakage or inrush currents. The FDB 19 combines a variable sensitivity and time delay RCD together with a triple pole MCCB (minimum I SKA) to provide overcurrent and short circuit protection.
Installation of the FDB 19 is recommended to achieve the optimum level of protection without the inconvenience of spurious tripping. Numerous applications throughout industry from construction sites, mines and quarries to mobile plant and cranes and for the protection of stage lighting systems where thyristor spikes can trip conventional RCD's. A standard feature of the unit is its non-fail safe operation ideal for primary breaker installations or those that are unmanned or prone to supply interruption. A fail-safe version requiring reset of MCCB on restoration of a supply interruption is also available.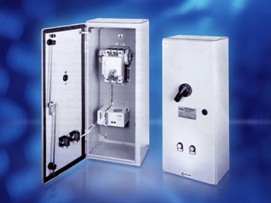 Housed in robust, lockable steel enclosures to IP65, this range complements our standard RCD range and overcomes the difficulty of protecting problem installations. Contact us to discuss use of the FDB 19 with our technical team.