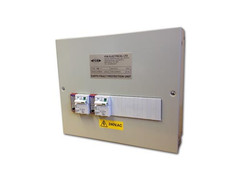 The recently announced FDB2 multi-way RCBO earth fault protection system is available at our new online shop and enables individual protection of multi-circuit installations in a single modular enclosure – with corresponding savings in cost, space and installation time.
This modular range of general purpose earth leakage protection units, complete with overload and short circuit protection, is approved by Network Rail for use in DC Electrified areas.
Double pole 110/230V earth fault protection is offered at 10A, 16A, 20A, 25A and 32A ratings. The units are completely modular in design meaning that enclosures can be stacked both horizontally and vertically to suit available space and for expansion.
Each surface mounting enclosure contains solid state electronics for stability and immunity from spurious tripping. Externally RCD test buttons and MCB toggles are fully accessible at the front panel of the enclosure.