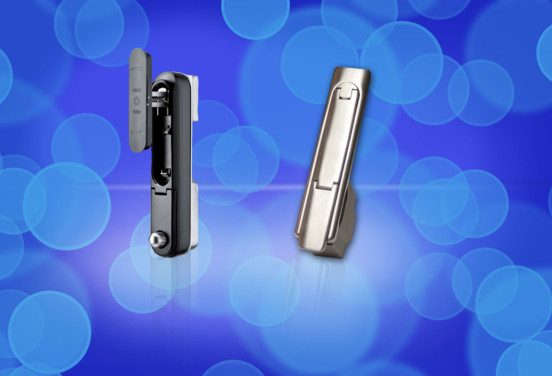 We believe that protection of enclosures against theft of contents and general vandalism continues to grow as a major issue for design and installation engineers, especially in light of increasing copper prices where cables and other copper containing components are at risk when installed in vulnerable public access areas. This has been recognised for some time and is addressed by our recent introduction of 2 new anti-vandalism handles – 1 stainless steel swinghandle, and a zinc die pop-out T handle.
In particular, the new 7-061NT IP65 stainless steel swinghandle is tested in accordance with DIN 1630 and features very narrow gaps to minimise access for simple tools like screwdrivers. Other features include a protective housing which prevents the lock cylinder from being pushed through, and a covered front to protect the cylinder. Flush design also minimises leverage from tools and is coupled with tough AISI 316L stainless steel construction which makes it especially suitable for use in extremely harsh environments.
Other anti-vandalism handles compliment the 7-061NT, for example the novel 3-145 retractable T handle in black finished zinc die. This is designed for two separate locks, a keylock (with a great variety of choice) and/or a padlock eyelet for superior protection against unauthorised access.