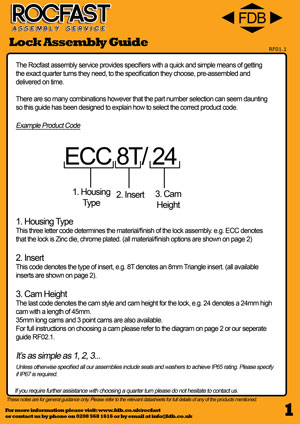 Forming part of our Rocfast assembly service, we have recently published the first in our Knowledge Base series of helpful guides. The Lock Assembly Guide has been designed to explain in simple steps, with easily understood diagrams and reference tables, how to select the correct product code of housing, insert and cam to suit individual enclosure requirements.
Its companion Cam Selection Guide gives additional detail on types and sizes of tabs available for standard quarter-turn locks – also available to download from www.fdb.co.uk/rocfast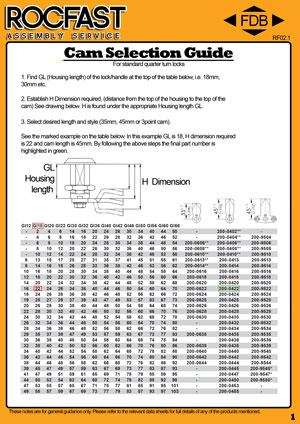 It is intended that use of the Lock Assembly Guide and the Cam Selection Guide will ease the specification process for design engineers – who may wish to assemble for themselves during production – or may otherwise wish to take advantage of the Rocfast lock assembly and logistics service. This service take the "heavy lifting" out of lock component selection, assembly and delivery with appropriate packaging if desired, and if the installation calls for it, separate deliveries of keys/barrels/tabs in production packs to a specified delivery schedule.