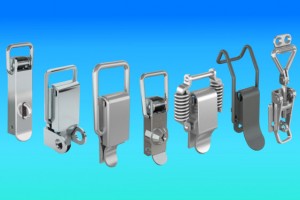 The Rocfast brand here at FDB is expanding with this comprehensive range of toggle latches – or over-centre catches as they are sometimes called. These toggle latches have the advantage of being "quick release" but with the added benefit of not extending into the case or equipment being fastened.
The new range offers the user a wide choice to suit most industrial applications; for everything from simple containers, tool boxes, industrial canisters, banding and cladding applications, to sophisticated medical and marine equipment.
Rocfast toggle latches are manufactured from either cold rolled steel or stainless steel, and feature many options including adjustable, vibration proof models to provide gasket pull up, key lockable and padlockable types and some with a secondary locking feature to prevent accidental unlocking.
Naturally they are complemented by a wide variety of matching strike plates as well as straight or curved links, while integral springs are also available on selected styles for their anti-vibration characteristics. Contact us for details or to order.