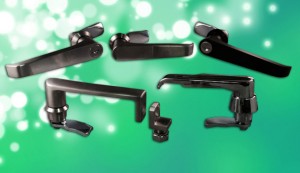 L handles for specialist cabinet manufacturers are now available ex-stock and online from the FDB Online Store. Many types and sizes are offered with/without locking options or with padlock facility. Typical applications include furniture, electrical enclosures, electronic cabinets, specialist motor vehicles, railway rolling stock and similar.
L handles from FDB Online are manufactured in black or chrome zinc die cast, polyamide or stainless steel for use either as standalone locking handles or with multi-point rod lock control mechanisms. Tabs/cams are listed in a great variety of depths to suit the design parameters of the door/frame and the gasket to ensure proper sealing in order to match the up to IP65 protection provided by these handles themselves.
L handles and other panelware are now available from the FDB online store at www.fdbonline.co.uk. Further information on FDB products and services may be found at: www.fdb.co.uk.