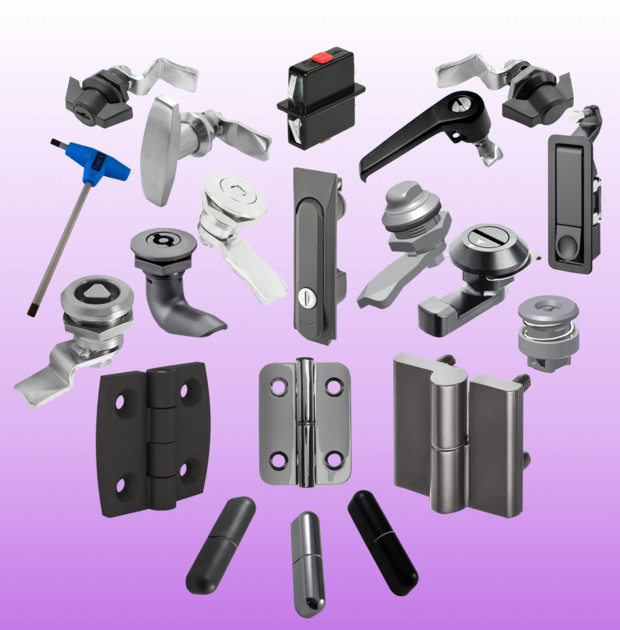 Here at FDB Panel Fittings there are many years of combined experience in supplying panel hardware, from which we have found that the selection process for correct panel hardware is largely to do with the application. For example there is little point in fitting low cost, light duty locks and hinges to enclosures destined for use in shipbuilding or mining for instance. Of course they will work for a short time but not for very long. Conversely, it should not be assumed that fitting expensive stainless steel fittings is the answer. As with most things, the optimum solution is based on more than one factor – and can make very important differences in cost and reliability – this is where FDB are able to provide truly independent advice and can often act in a "Project management" role – finding an optimal application solution. Balancing weather-ability, corrosion resistance, strength/ruggedness, supply constraints etc. e.g. by matching a stainless handle with a polyamide housing, as a compromise of performance/cost between polyamide at the low cost end and stainless at the high cost end.
A good example is the latest "Buzz" technology in enclosure hardware – Compression Locking, which was confined to a somewhat limited range of applications until it recently came out of patent protection, so that now a much wider market is finding it beneficial. A number of manufacturers seem to have had their own parallel version of this technology under development for some years and have been able to quickly bring their expertise in design/manufacture to provision of a very greatly expanded range of compression latch variants.
However the question stands "is a compression facility beneficial and where?" Well certainly the anti-vibration role of these locks is excellent in preventing opening of panels such as on trucks, railway rolling stock gen-sets, air-con and heating and ventilating systems.
Similarly the ability to provide "soft" gasket compression is valuable on cabinets with EMC gasket to ensure a firm contact, or indeed on large door panels where the closure force needs to be distributed over substantial distances or adjusted to allow for manufacturing tolerances, also compression technology provides several millimeters of soft gasket compression and cam depth adjustment.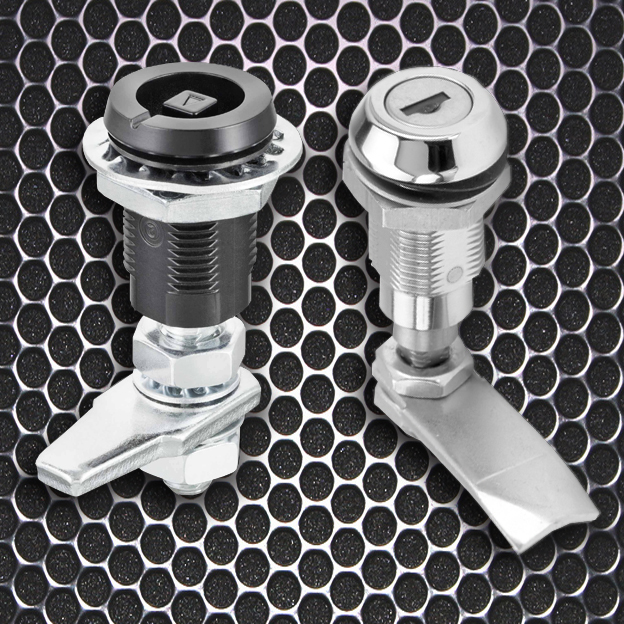 The result then is that customers are finding they are also now in a position to consider "soft-close" compression technology for ¼ turn locks, swing handles, T handles etc, where it may be that the different closure feel is important, or that the additional degree of anti-tamper performance conferred by the design is a valuable security factor
This is just one of many trends in cabinet hardware which tends to work over fairly long time frames. During recent years there have been many new developments in enclosure hardware and today there are products available for almost all industrial applications. Not just locks and hinges but a whole raft of complementary products including grab rails and handles, stays, door seals and numerous accessories.
IPxx degree of sealing is by now a well recognised front line consideration and most engineers will be aware that for example IP54 or IP55, while potentially suitable for external use is not weatherproof or waterproof. Our sales team have become adept at looking beyond this to the complete picture including: frequency of use, ease of operation, degree of corrosive environment, the cost/material balance, key possibilities, zonal security requirements, walk-by clothing entanglement, gloved hand usage, vibrational considerations, e.g. where vehicle mounted, wash down and pressure hose use, type of gasket used, door type and opening required, special industry standards, e.g. railway, offshore, mining, machine tool guarding.
A major long term trend is toward greater use of stainless steel hardware; consequently we have established a comprehensive range of stainless steel locks, hinges and handles suited to petrochemical plants, hospitals, food processing establishments, medical environments, outdoor installations, marine and offshore industries. The range includes piano hinges, integral recessed lock/handles, weld-on hinges, bolt-on hinges, grab handles, spanner locks, rod locks, concealed hinges, lever and T handles. Importantly for marine/offshore installation many are available in stainless grade 316 as well as the more common 303 and 304 with satin and electro polished finishes. Stainless steel fittings are suited for control cabinets, electrical equipment and instrument housings, especially where exposed to the elements or frequent wash down processes. These stainless products are of course designed to complement the standard range of die-cast and mid steel fittings and in many cases are interchangeable with them.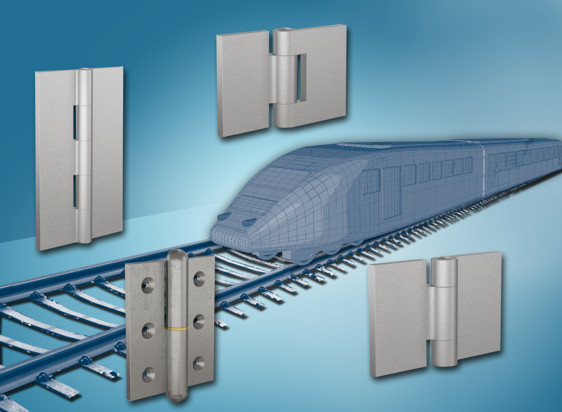 In one large project our team certainly rose to the challenge when they were called in to supply locks for the new T45 warships. Like any very large single community the T45s face security issues for their personnel, in this case the requirement was for a zone based wing lock system to cover personal lockers, wardrobes and other storage areas. With typically over 2000 locks on each ship a project based master key system was specified for crew cabins and furniture or lockers in communal areas.
This ideally suited our expert Rocfast team who were able to carry out planning, supply, specialist project packaging, administration of coding/delivery and long-term backup support. Not only was it important to have a zoned security with key operated wing locks offering a very high number of "differs" – up to 5000 different combinations with master keys – it was also important that the locks and keys were separately labelled for specific locations and delivered at a very early stage so that they could be brought together later during final fit out.
Another good example was the requirement for quarter-turn latches to suit 18000 galvanised steel water meter boxes for domestic installation in the Middle East. For security, a plastic clip-in, quarter-turn latch was specified by the customer – simple to fit and, bearing in mind the quantity, relatively low in cost.
However, our technical sales team felt that the latch would be unsuitable for the service conditions that were likely to be encountered by the boxes. A small but extremely robust die-cast lock with steel cam was suggested for evaluation by the client.
In order to stay within the budget constraints it was proposed that the lock be supplied zinc-plated rather than with its usual chrome-plated finish. A further problem was the very short delivery period for the boxes themselves – a period of just 3 months for the fully equipped boxes with a fixed completion date and no possibility of slippage with container shipment pre-booked. We were able to deliver at the required rate of 1500 locks a week, but after four weeks increased this to 2000 thus allowing the contract to be met in 10 weeks.
FDB have successfully tendered for the supply of panel hardware to many diverse and prestigious projects including: London's Millennium Wheel, The Channel Tunnel, Russian Oil Pipeline, Hungarian Buses, The Thames Barrier, T45 Destroyer fleet and the London Underground flood defences.