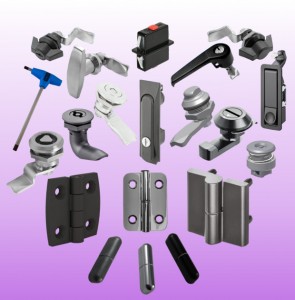 We hear quite a lot about re-shoring of manufacturing to the UK, Europe and the US – and certainly from the interest and business levels we see reported at exhibitions and the trade media this seems to be a time of growth for UK manufacturing companies – who are often now stretched to increase output on the same staffing levels – and this is where our Rocfast assembly and logistics program can come to the rescue – by speeding specification, dealing with assembly and packaging followed by delivery direct to production facility or installation site worldwide.
Our Rocfast team can effectively support the connection between design, purchasing and production by dealing with the detail of your panel fittings needs – saving time, money and mistakes.
The Rocfast program focuses primarily on lock assembly including all major industry brands – it includes all ¼ turn favourites with appropriate keys, with IP rated sealing if required, with cams of all types, traditional L or T handles, swinghandles and compression locks as applicable. This specialist service program can efficiently deal with modern modular component systems or traditional single kit formats and with one-off or scheduled program deliveries as well as separate packaging of locks/backnuts/keys etc to suit logistical requirements. Where required complete fitting kits can be supplied including lock/s, hinges, gasket, and with lock cylinders+keys forwarded to a separate destination if desired.
Typically this could involve a careful investigation of the specification and supply parameters so that for example a suitable assembly of ¼ turn camlock, budget lock or stainless steel lock might be identified – coupled with perhaps a piano hinge or internal weld-on hinges – packed together with a precut length of clip on sealing profile – with packs to be delivered in batch quantities.
Contact us to discuss your assembly and logistics requirements.