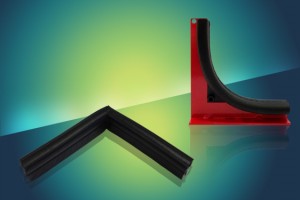 Our range of self-gripping extruded gasket has served specialist enclosure and cabinet builders well for many years, but fitting to square corners has always involved either cutting or deforming the gasket so limiting the sealing degree achievable.
Recently, we introduced our radius corner adapter which creates rounded corners on the cabinet frame so enabling continuous flow of the gasket – an ideal solution for small numbers of installations.
Now under the Rocfast service banner, we are also offering preformed mitred-and-joined frames to fit custom cut-outs on a bespoke and pre-assembled basis. These frames incorporate right angled joins or other angles to suit cabinet frames or door cut-outs for access covers. Typically a bubble style self-grip extrusion (or other profile) can be assembled and joined precisely to specification so that it may be rapidly installed to its pre-designated aperture. The corners are joined so as to preserve the gasket section and sealing performance, thus ensuring an optimum seal throughout.
Pre-joined gasket frames are an ideal solution for small batches up to long production runs of cabinets or for use on motor vehicles, caravans, boats and similar – contact us for your custom quotation.
Consequently we believe that the corner radius adapter and the Rocfast pre-assembled frames offer a complete solution to many gasket installation problems.