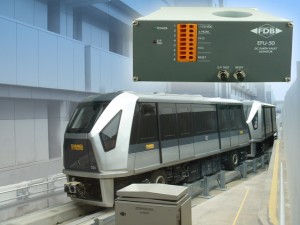 Monorail Mass-Transit has a very successful history in Singapore where it is used extensively around the city (the LRT system) and around the nearby Changi airport (the Skytrain system) where our EFU50 DC protection units have been used. These units protect in-station equipment on the DC contactless charging system where it monitors the DC circuit for earth faults and disconnects in the event a fault is detected so as to protect the system from further costly damage and potentially protect personnel from the effects of the fault.
The EFU50 is RIA tested (by UK Network Rail) – it is part of the FDB Optima series of earth fault protection relays (RCD's) and will detect residual direct current without having to use Hall Effect transducers. It can also be installed to detect when and where an earth fault occurs in a DC wired circuit, thus eliminating costly man hours and down-time in locating system faults.
The EFU50 is designed to react to DC currently only and will reject induced or stray alternating current from 25Hz to 250Hz up to 2 Amps whilst still operating precisely on DC residential current against its preset level. This enables the EFU50 to be used to detect imposed DC current on AC circuits as well as its primary use of DC residual current detection.
It is a fully encapsulated device thus providing excellent temperature stability and high immunity against shock and vibration. For ease of installation it is housed in a single, compact Din rail (or chassis mounted) enclosure with a 28 or 46mm aperture for the load cables to pass through. It has integral test and reset push buttons and LED indication of E/F trip.
The EFU50 is particularly suitable for DC controls, heating elements, traction and general DC bus applications. It can be used on either earthed or "special" systems and still provide alarm, indication and location of any Earth Fault problems. Trip level preset between 500mA and 2000mA.