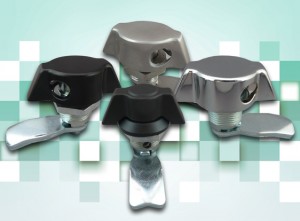 Convenient quarter-turn wing handles have become a mainstay for convenient operation of enclosure doors and a full range is now available ex-stock and online.
These wing handles are offered as components or pre-assembled for direct installation into an industry standard panel cut out in L or R hand application. The range covers zinc die (chrome finish), zinc die black polyamide finish, and surface polished stainless steel.
Sealing up to IP65 is available dependent on choice with a wide selection of different depth/height cams to suit specific panel closure spacing and gasket selection. Padlock variants are available in zinc die and stainless steel.
Special assembly, packaging and delivery requirements can be met under the Rocfast service brand which can ensure custom installation packs are delivered worldwide to suit specific requirements.