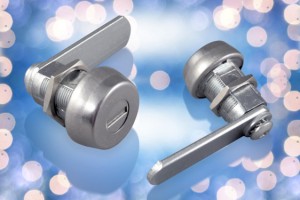 Our new Type 1414 camlock has been designed especially to be capable of withstanding exposure in the harshest environments for use in any environment that may be exposed to the elements; specifically roadside cabinets, communications pods, cable pillars and commercial vehicle security.
Consequently it has been tested and proven at temperatures as low as -40°C. In exacting controlled trials the product also withstood 1000 hours of salt spray environment exposure.
The Type 1414 is a ten-disc, single entry device offering high levels of security with 2000 differs as standard. A shuttered keyway keeps the damp out, whilst the lock mechanism offers a smooth and positive feel. 
Contact us for further details on this exciting new item – click here for details of our full range of camlocks and spanner locks.