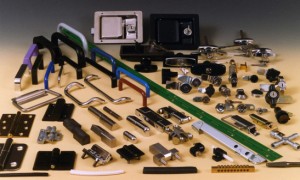 We are pleased to announce that we have far exceeded a 3000 plus inventory of specialist industrial access hardware for electrical enclosures, cabinets, electronic racks, control panels, HVAC equipment, lockers/furniture, amusement machines, retail displays, telephone and vehicle security.
Our Panel Fittings range now features locks of many types from quarter-turn through compression locks/latches and combination to pin tumbler, padlocks and rod locks. Standard handle types are catered for, including grab handles, T, L, swinghandles and winghandles. Many items are available in stainless steel 303, 304 or 316, making them suitable for use in chemical, food processing or marine situations where corrosion resistance, coupled to rugged performance are critical factors.
We have been leading specialists in the panel hardware arena for over 30 years and pride ourselves on providing "The Full Package". As Terry Cantle explained: "We work hard to ensure that we provide real added value – not only with our product, but also by consulting closely with customers in order to provide a proven and reliable single source. We not only ensure specifications are met, but also that costs are minimised."
Alongside locks and handles the natural complement is a standard range of hinges which in this case provides a huge selection of internal, external, lift-off, piano, weld-on, bolt-on and clip-in types – again with stainless steel variants if required. The innovative D-SNAP technology for tool-less panel joining and hardware fitment parallels traditional technologies with the added potential to save costs and time.
So, whether a project calls for toggle latches, busbars, combination or change locks, neoprene seals, gas struts or eye bolts, we continue to expand our portfolio and service support – a good example of which is the popular Rocfast assembly and packaging service.