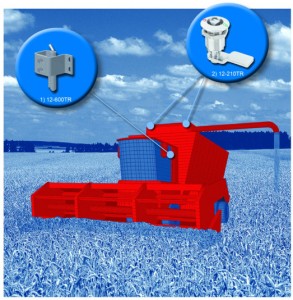 Our engineers have been aware that commercial vehicle manufacturers have special requirements for their components – for example specific hinges and lock inserts. Consequently we are now pleased to offer a range of transport related hardware with the durability to withstand high vibration environments with a high degree of vandal-resistance built-in. These are particularly applicable to utility vehicles such as agricultural harvesting machines, for example which are used in areas far removed from any repair shop or replacement parts, and must also meet a very tight harvesting schedule. Similarly, other mobile plant and construction vehicles where small problems can lead to long and expensive delays.
Typically the 12-600TR concealed hinge for cab doors and the 12-210TR compression latch exemplify the range which covers everything from quarter-turn locks/latches with a variety of specialist inserts, through lock rods, cams, slam latches, concealed and screw-on hinges, clip-on gaskets, recessed handles, bridge handles and SNAP-Joiners.
So whether the application is for fixed or mobile plant, on the farm or building site you can rely on us to have a welter of hardware to suit the application.