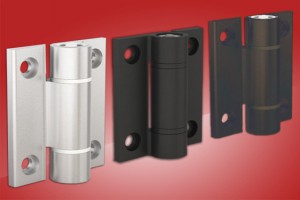 Our new 72 series spring hinges suit doors and opening panels in environments from domestic to office and industrial. With an attractive concealed spring, butt type design and black or clear corrosion resistant anodised finish, their looks match their performance whether used on furniture, filing cupboards or machine control cabinets.
The FDB 72 series hinges feature a zero play mechanism with spring openings in free moving or torque mode and are also available with detent facility. They offer spring forces up to 0.70 Nm in sizes up to 67mm x 55mm to allow selection for various door weights and dimensions – they are manufactured from 6060 T5 aluminium with countersunk screw fixing provision.
The FDB 72 series aluminium spring hinges are now available from the FDB online store at www.fdbonline.co.uk.