IP65 locks and handles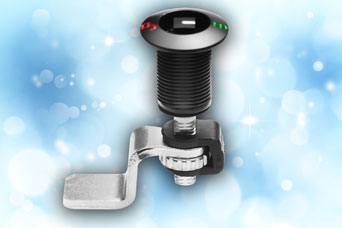 The standard DIRAK compression latch from FDB Panel Fittings is now also available in black to pair with black hinges and other enclosure hardware. The black finish with white insert markings offers a particularly clear indication of the latch position.
This IP65/67 latch offers a full 6mm of compression to ensure good gasket pull down along with excellent vibration resistance to prevent nuisance opening. It is useful especially on vehicles and machine controls where vibration is problematic.
Square & Triangle inserts (8mm) are standard & 3mm & 5mm Double Bit inserts. The 1-078 set height version is supplemented by the 1-079 option with a threaded square shaft to accept an adjustable cam accessory which permits depth variation of from 17mm to 73mm without the use of tools.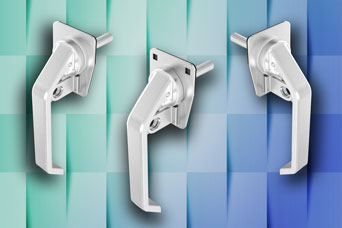 This new DIRAK stainless steel L handle has been designed to suit deep door panels such as used in acoustic enclosures, refrigeration, HVAC applications, large plastic doors and other access panels in food and hygiene areas where its IP65 sealing is of advantage.
Explained Gary Miles, M.D. here at FDB Panel Fittings – "DIRAK has again done an excellent job with this stainless steel L handle in providing versatile padlock use with flexibility of fitment. In particular they have provided for use of their adjustable cam adapter which enables an exact fit to be achieved to compensate for gasket set and is especially necessary where doors are subject to ongoing vibration, so ensuring security of the installation."
The L handle with cam adapter can be adjusted manually without tools and accepts standard cams of varying depth. Handle construction is in highly polished AISI 316 for easy cleaning with a high degree of resistance to corrosion, temperature and chemical action, e.g. cleaners.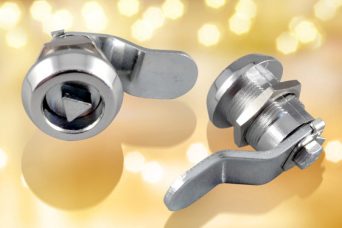 Quarter turn locks are the solid, reliable standard for specialist panel building and here at FDB Panel Fittings they form the backbone of our business in the shape of products from the most respected manufacturers from insert latches to swinghandles – all backed by our Rocfast assembly and logistics service.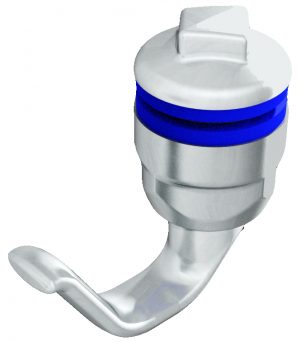 Quarter turns come in various materials – zinc die, reinforced polyamide, stainless steel – and in many guises with a huge range of options in body lengths, cam lengths, insert types, lock numbers, IP protection levels and so on – something where our Knowledge Base documentation can offer guidance.