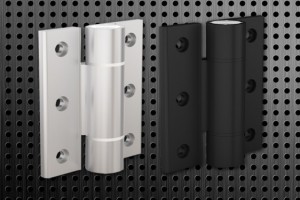 Heavy metal doors, metal furniture and heavy panels often call for spring closure – which is addressed by our new range of aluminium spring hinges which offer automatic opening and closing with high performance spring torques up to 3.8 N.m – such that it is possible to move doors up to 90 kg with just three hinges.
Features include a completely invisible internal spring mechanism, finish in clear or black anodised aluminium – plus the availability of damping hinges for a soft close or variants without spring. Overall size is 100mm x 82.5mm.
Contact us to check your specification.