A question frequently asked of the sales team here at FDB Panel Fittings is regarding the load bearing capacity of a hinge/door installation. This usually applies to the weight of equipment that may be installed on the door or to specification and selection of hinges to support an equipped door.
Some hinge manufacturers provide laboratory test data for a specific hinge, but this is often confined to limited pre-defined conditions. However together with our sales partner Dirak, we have now provided a Hinge Calculator Tool which may be accessed by clicking on the linked icon above which also appears on our home page www.fdb.co.uk, and on our hinge page www.fdb.co.uk/catalogue/hinges.html.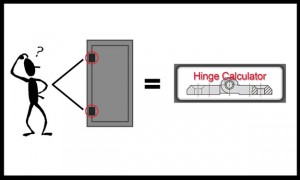 Operation of the Hinge Calculator Tool is extremely simple – designers/specifiers need only enter the basic parameters, including hinge style, e.g. concealed or visible; weight and size of door and quantity per door, and the tool will provide up important information on load values and positioning, as well as finding exactly the right product for the application. Once the correct hinge combination has been selected our sales team will then be able to advise re price, delivery etc.
So check out the correct hinge specification for your cabinet with this new Dirak Hinge Calculator – then come and talk to us about the hinges, locks and gasket you need.