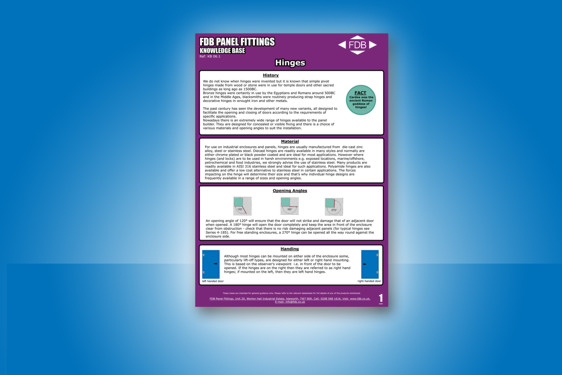 Our new guide to hinges and their use, asserts that "it is known that simple pivot hinges made from wood or stone were in use for temple doors and other sacred buildings as long ago as 1500BC. Bronze hinges were certainly in use by the Egyptians and Romans around 500BC and in the Middle Ages blacksmiths were routinely producing strap hinges and decorative hinges in wrought iron and other metals".
This free download guide from our in house experts quickly brings us up to date – with a range of useful information covering modern developments, materials, opening characteristics, mounting, load bearing capacities and common types used in the electrical and electronic enclosure industries through lockers, control panels, industrial/domestic/office doors and commercial vehicles.
The guide covers hinges which demount, hinges with fixed pins, push fit, weld-on and bolt-on types, including the time saving snap-line clip-in hinges which save up to 90% of assembly time compared to traditional hinges. The guide can be downloaded at www.fdb.co.uk/downloads/knowledge-base.html.