Whether you are using D-SNAP components for assembly of a complete cabinet or just for the door furniture, at FDB Panel Fittings we are convinced that the SNAP-LINE range of hinges, locks, handles and panel joiners can provide big time savings for enclosure production, enabling hardware to be installed without the use of tools or mounting hardware such as screws or nuts.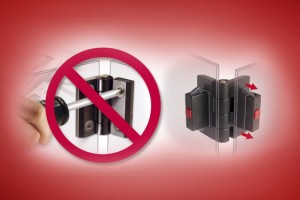 As Terry ( Cantle )  puts it: "This technology offers a completely new way of reducing cost and is an overall time saver for enclosure manufacturers. D-SNAP technology speeds up the entire hardware installation process, allowing manufacturers to save up to 90% of their assembly installation time."
By using D-SNAP technology the hinges, quarter-turn locks and swinghandles which are integrated into a housing component, are wedged into the cutout, providing a secure vibration proof installation. Without screws there is no concern about loose pieces falling off and damaging sensitive equipment.
This design, with its two spring-loaded sets of wings, offers an installation that is comparable with the strength of conventional products that require hardware and tools for assembly. The hardware may be installed via blind assembly from the front and therefore can even be used for hollow profiles or "sandwich" panels.
An important advantage is that enclosures may be transported safely in a limited space environment without the danger of protruding hardware. Even untrained users can quickly and securely install hardware into an existing cutout without tools.