Rocfast

Here at FDB Panel Fittings – the name says it all – we specialise in panel fittings – otherwise referred to as enclosure hardware – hence the theme of "panel fittings for every enclosure" covering probably the UK's largest range of locks, hinges, handles, cable management support systems, and accessories for virtually all industrial applications. Our extensive stock and Online store deliver top international brands such as DIRAK, EMKA, PINET, Weston Body Hardware, Gold and Wassal, Lowe and Fletcher, on urgent delivery backed with our Rocfast assembly and logistics package which ensures that you get the right components,  correctly assembled, ready to fit to your enclosure, in the pack type/size you want, at the location of your choice.
Under the banner of our Rocfast brand we are frequently able to achieve significant reductions in purchasing/admin time and effort with our well proven "Just in time" service for all those low value but critical components. This means just one order, one invoice, one payment and the components on the line when needed. Contact us to discuss your Rocfast needs.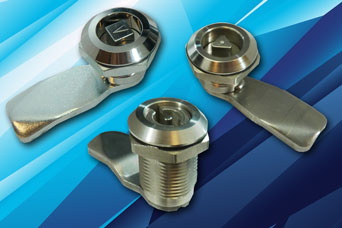 Under the Rocfast lock assembly brand we have a wide range of locking devices and ancillary components for all industrial applications which we assemble to customer specification – with your choice of insert/lock cylinder, body length, cam style/length and to the required sealing level – all packaged and delivered wherever required worldwide.
Our locking components are provided from a number of top international manufacturers and cover all specialist panel needs from quarter turn locks to swinghandles – many of these locks are available ex-stock from our Online store – contact our expert sales team to discuss other Rocfast requirements.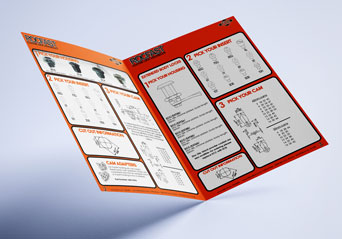 Our new Rocfast guide to lock assembly now available free from the links below is a how-to-do-it selection assistant from our respected experts in specialist cabinet and enclosure hardware.
Customers are walked through the logical process of determining which housing, insert, cam, cut-out, and/or cam adapter may be required for standard or extended body locks in common finishes and how to select the correct part number to ensure the desired part is ordered. Accessories such as handle inserts, dust caps and finger pulls, serrated lock washers and earth nuts are highlighted, as are slide shoes for cams which help provide a positive compression while reducing the friction and paint damage caused by constant operation.
You can download free from www.fdb.co.uk/rocfastdownloads, or contact marketing@fdb.co.uk or call us on 0208 568 1616 for a free hard copy leaflet.