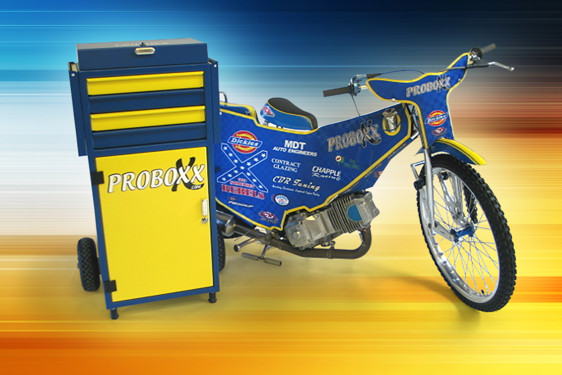 When Argon Welding Ltd saw the need for rugged all-terrain mechanics tool cabinets in their favourite sport of motorbike speedway racing, they naturally turned to in-house argon welding capability – but they also turned to our specialists here at FDB Panel Fittings for their expertise and ex-stock products to aid in quick low-cost assembly.
As Steve Pickering explained at www.argonweldingservices.co.uk: "We needed a method of snap joining units and installing hardware like hinges – FDB's SNAPLINE fitted our requirements really well, and their radial pin tumbler camlocks completed the workshop pack they supplied under their Rocfast program."
The finished toolboxes with inflatable pneumatic tyred wheels have in-built power distribution for laptops, telemetry and power tools and are suitable for bike and car service engineers in speedway, grass track, scrambling, autocross, rallying etc. The flexibility of the Rocfast product pack also aids Argon Welding in production of custom boxes in sponsor configurations where required.
Terry Cantle was delighted at the outcome. "Argon Welding have a great design here and we were all pleased to supply rugged hardware which was easy for them to integrate into these very specialised units."