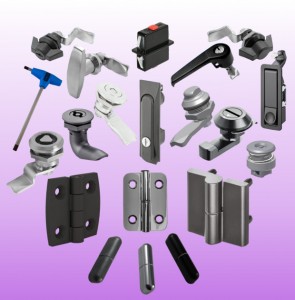 As long-time suppliers to the specialist enclosure and panel fittings market, we at FDB have greatly added to and consolidated our range in recent months and are delighted to now stock and supply to ISO 9001 an extensive range of locks, handles, hinges, seals and other panel hardware from stock at competitive prices with the benefit of our popular Rocfast custom assembly and packaging service. The Rocfast system hand-holds customers from specification to delivery so that components are assembled and packed to suit specific production needs – so saving you time and money.
The Rocfast service covers all products encompassed in our profile – this includes: budget locks, camlocks, compression locks, knob locks, rod locks, spanner locks, waterproof locks, toggle latches, concealed hinges, flush hinges, butt hinges, lift-off hinges, 'piano' hinges, stainless hinges, weld-on hinges, earth bars/busbars, flush handles, grab handles, lever handles, tee handles, paddle handles, padlocks, support stays and seals/gaskets.
Contact us to see how the Rocfast system can make your life easier!